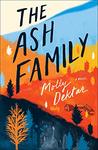 The Ash Family: A Novel by Molly Dektar

My rating: 4 of 5 stars

Three days or the rest of your life

"Come, my soul, and let us try, for a little season, every burden to lay by, come and let us reason."
Berie wants none of it. At 19 years old, she doesn't want her life. Not her college. Not even her boyfriend or her mother. However, till she meets Bay at a bus station, she has no idea what life actually holds for her and if she even wants what it has to offer. Bay hands her a life unexpected but with one condition: three days or the rest of your life.

"What if I stay longer than three days but want to leave after?" I said.

"Why would you want to leave, when you'll have more freedom here than anywhere else?" he said.

But at what point does freedom become captivity and when you've pushed the world away, how does one escape?

And at what point, when does one no longer want to escape?

– – – – – – – – – – – –
Continue Reading
The Daughter by Lucy Dawson

My rating: 4 of 5 stars


Too many secrets. Too many lies. The past is catching up to Jessica and there's not much more she can take…

17 years ago:

Something every mother fears has happened to Jess's daughter, Beth. It destroys Jess and starts to unravel all the tightly woven deceptions she's kept hidden for so many years. Fearful it would all come crumbling down, she ran.

Present day:

Happily married, new life, beautiful toddler in arms, Jess starts having bizarre things happen to her. Terrifyingly, the past shows itself to be a force of nature and that there's no escape. Someone wants her to pay, someone wants her to feel pain. The past is here and this time, there's no running. But at what grave cost?

– – – – –

3.5 stars, rounded up. I debated between 3 and 4 stars and decided this was a book I didn't love, didn't hate, wouldn't recommend as in "man you've gotta read this book!" BUT wouldn't want to discourage others from reading! So enjoy it if you do. I did!

Thank you, Lovelies!






View all my reviews
First off… no, this is not a blog about spending during the holidays. Haven't we got enough of those? 😉
Nah. This is about TAXES!
(Silently watches as everyone leaves the room)

Okay please don't leave. This is not really about taxes, per se.
So I'll make this a short one. As a business owner (my husband started Listening House Studios years ago, online/in-person piano lessons & more) I have to constantly keep up with every receipt, every dollar spent, to get as many write-offs as possible. If I don't, we'll be paying Uncle Sam instead of him paying us. Aaaaand who wants that?

So I wanted to share with you…
(me: briefly, I promise)
(also me: Sarah, don't make promises you can't keep)
… a couple ways that make this super easy!
Continue reading

"$ 'Tis the Season $"
It's a constant battle between ourselves and the government; who is in charge? Who gets to run what and who gets the say over what should, could, won't and will be done? 
I believe there can be good in what the government provides for those in need but so often they find themselves caught up in so many rules and regulations that they end up hurting those they aim to help. 
Thank you, but….
Some of you may already know from previous blogs that my son is right where he should be in some areas, well above average in many, but significantly below average in speech. He will be 2.5 years old on Christmas Eve and he cannot say even 15 words. There's only a handful of words he can say in full without dropping the ending. 
Through the government, bless their hearts, you can get free therapy for your child. In Tennessee, once they age out at 3 years old, they can no longer be provided this service. You can hire a professional speech therapist but sometimes that isn't even an option (financially) for some families. 
We started this free service back in September (if not sooner). We've met over and over and over again with various different people that work in this system and I couldn't tell you who is who or where they work or what part they play. 
They ask the same questions.
They get the same answers.
They watch Jackson play with the same toys.
They watch how he interacts and it's…you guessed it… always the same.
 Nothing but wasted time and paperwork, it seems. Meanwhile my son continues playing with children who cannot understand why he won't talk. They ask their parents in front of us, "why won't he play?" or "why won't he talk?" or "He doesn't talk. I don't know why." and my favorite one yet, "I think he speaks Spanish". (Jackson has his own language and it honestly does sound like a foreign language.)

I'm thankful you tried.
Now, I'm not really upset with the therapist and the case workers. I know they're swamped. I know they're underfunded. I know it's a very thankless job a lot of times. I feel for them. I see you. I hear you. I'm not angry with you. 
What I am? Is a mother who desperately wants her son to tell me what he's thinking in a way that I can understand. I'm a mother who wants to be able to respond to my son so that he knows I'm interested in every word that touches his lips. I'm a mama bear who's trying to stay patient and kind because you're not the ones keeping my son from progressing. 
So while I'm thankful you tried – you're still trying – to get my son the help he needs, I'm sad to see a good system with good people and good hearts falling short. Maybe there's no current way to fix it. Maybe this is the best it can be. I sure hope not. I sure hope there aren't other people out there like us, waiting 5+ months to get any sort of help, knowing they'll be aging out in 6 months.
I plan to write whomever I can about this. I don't want other mamas and their cubs to have this hanging over their hearts as well.
If you happen to have any information about this, advice or just encouragement, please feel free to comment below.
Thank you, lovelies. 
Often I wish that the words in my head could be instantly transferred to paper, because by the time they get there, everthing has changed.

– The Nashville Wife
Nine Perfect Strangers by Liane Moriarty

My rating: 4 of 5 stars

"The lowest point of your life can lead to the highest."
A health resort. A goddess, once a leader in a man's world, now a divine leader to worlds unknown. A group of nine strangers longing for a difference in themselves, expectations low with results they could never have dreamed up.
Continue reading

"Book Review: Nine Perfect Strangers (Liane Moriarty)"
When We Found Home by Susan Mallery
My rating: 3 of 5 stars
When We Found Home
tells the tale of a family who was split apart before they ever knew one another existed. The story begins with Malcolm meeting Delaney where she works, having carefree fun flirting and is suddenly thrust into her world when something happens to Keira, his half sister. To understand the book better, here are the main characters:
Malcolm, a good-looking executive with a past that would wipe you off your feet. A calm, caring man with a big heart and an empty brain when it comes to raising 12-year-old Keira, his half sister. You'll be in love with him from start to finish.
Keira, a sassy little lass. Way too street-smart and far too scarred from the loneliness and heartache she's had to endure. She's a tough one and she helps round out her half-brother's very distrusting opinions of the newest half-sister, Callie.
As Malcolm put it, "you're all attitude and no backbone." Callie is a fiery one, she is. She's strong and witty but don't be fooled by her very thin armor. She's terrified. A convicted felon made heiress to an empire overnight.
Then we have Delaney. Oh my dear smart, beautiful, ambitious, frustrating girl.
Continue reading

"Book Review: When We Found Home (Susan Mallery)"
My rating: 4 of 5 stars
Up eight. Up another four. The door on the right.
➖➖➖➖➖➖
The playground.
That's what she called it.
Where the games were evil, and there was only ever one winner.
When it wasn't my turn, she made me watch.
A peephole in the wall.
Asked me afterwards. What did you see, Annie?
What did you see?
••••••••••••••••••••• Continue reading

"Book Review: Good Me, Bad Me (Ali Land)"
Some days the words are tired.
They want to speak, want to be heard but they remain.
They're sleepers.
They move and drift in a sleep-like state,
Diving in and out of consciousness.
They float in the air and you feel them descend into the cognitive part of your brain,
Only so you're fooled and then vanish back to the air where they remain once again.
Sleepers.
The words, the ones who want to be heard, they're tired.
---
♥
---
Photo Credit: Katy Kelleher (Artist: Kilian Schoenberger)